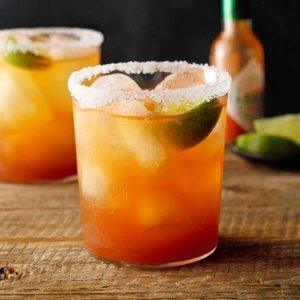 The world needs bolder non-alcoholic beer recipes and this non-alcoholic harissa michelada is EVERYTHING. The mocktail is pungent, has good heat, using fresh lime juice adds a tart sweetness plus the NA beer does a great job at keeping all the flavors balanced. For those who are unfamiliar with harissa, it is a North African spicy chili pepper paste. The flavorful condiment packs a punch, is quite smoky and tastes great with beer, non-alcoholic beer included. The drink certainly has a lot going on flavor-wise but yet there is something undeniably refreshing about it. And if that doesn't sound interesting enough, each glass is garnished with a combination of smoked paprika, ground cumin, and salt which serves as a tasty preview of all the flavor to come. You probably want to try these micheladas right away so it's about time that you chilled some glasses and gathered the ingredients so you can whip up a batch.
Total Time: 10 minutes
Ingredients
Serves 4
1 teaspoon smoked paprika

1/8 teaspoon ground cumin

¼ cup coarse salt

Lime wedges

1/3 cup fresh lime juice

3 tablespoons harissa

5 ½ cups non-alcoholic beer
Directions
Combine the paprika, cumin, and salt in a shallow medium-sized bowl.

Run a lime wedge along the rim of each glass then dip in the salt mixture to coat.

Add the lime juice to a cocktail shaker or mason jar with the harissa. Shake well.

Divide among four glasses.

Top with the non-alcoholic beer and serve.